(Per la versione italiana del testo vai a fine post)
Being by myself for some weeks, alone most of the times  even with small internet connection, it's not so bad. I could really just listen. Listen my thought, focus and appreciate the nature all around.
Don't get me wrong there were still all of other people at Case Vecchie, some of them live there other just work there… but you know what I meant, no one to share the work with, no friends, family and in an appartment all for me.
So from that summer days:
Just one step out of my office, and I am in the middle of soft, long round shapes limitless lines, those are the hills and the pattern of  fields. Golden curves drew by tractors during the threshing in contrast with the black of uncultivated fields.
Here sadness or anxiety leaves for a smile.
Light is the one just before sunset, golden and warm. I leave my "office" and I take the car. I drive through wineyards and olive trees, hanging to the steering wheel of my Fiat Panda old-super-old car, to look really carefully for the holes on the white road. Stop the car in the middle of the road to take a photo of branches of almonds. How can you resist to this light?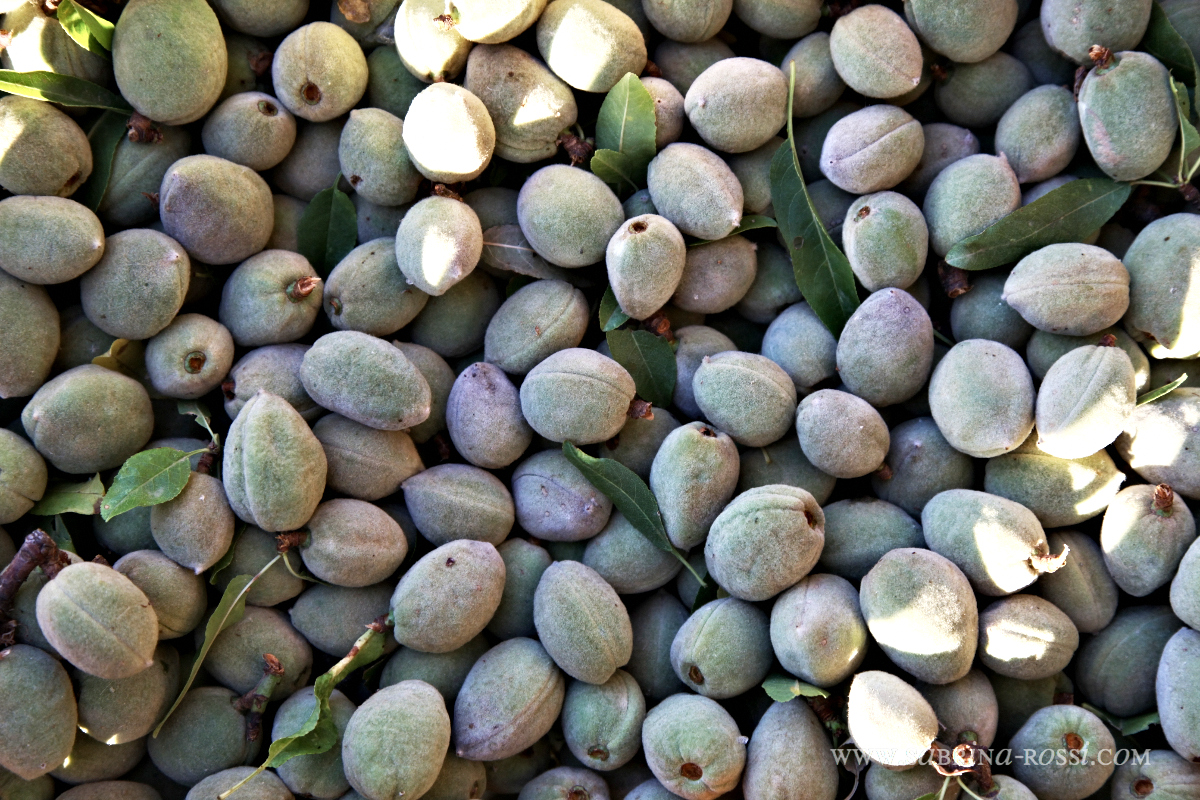 Empty and naked during winter time, the first to be covered with white flowers on the new year, in summers full of  fruits… here they are the almond trees scattered across the Sicilian countryside.
Should we be surprised if the almonds have become the protagonists of the Sicilian pastry tradition?!  Almond paste, horchata, cassata, blancmange, almond parfait. They all share this wonderful ingredient …
In the countryside in summer to the golden fields of wheat stand these low trees and full of leaves but on closer look, there are only leaves … here they are in the golden light of the end of a long, hot day Sicilian almonds still trapped in the their green shell.
This fruit is a real treasure because of its health benefits, eating regulary almonds in our diet will help us with regulation of cholesterol, because increase the level of the HDL  also called "the good cholesterol" because reduce the level of the harmful one the LDL; it's rich in mineral and vitamins such as phosphorous, so they are k-ingredient in the diet even for bones and teeth.
And also, It seems to be really important to have it in a children diet because it helps during the development and functioning of the human brain.
If you are so lucky  as I was to have close by an almond tree you can take it during summer and eat them fresh, peeled and left to soak in water and salt to remove the thin skins from these you can prepare a great almond milk. Almonds peeled are less allergenic and better taste… in my opinion.
Here is one of the simplest and freshest pastries with almond: Blancmange, decorated with a pinch of cinnamon and a teaspoon of pistachio.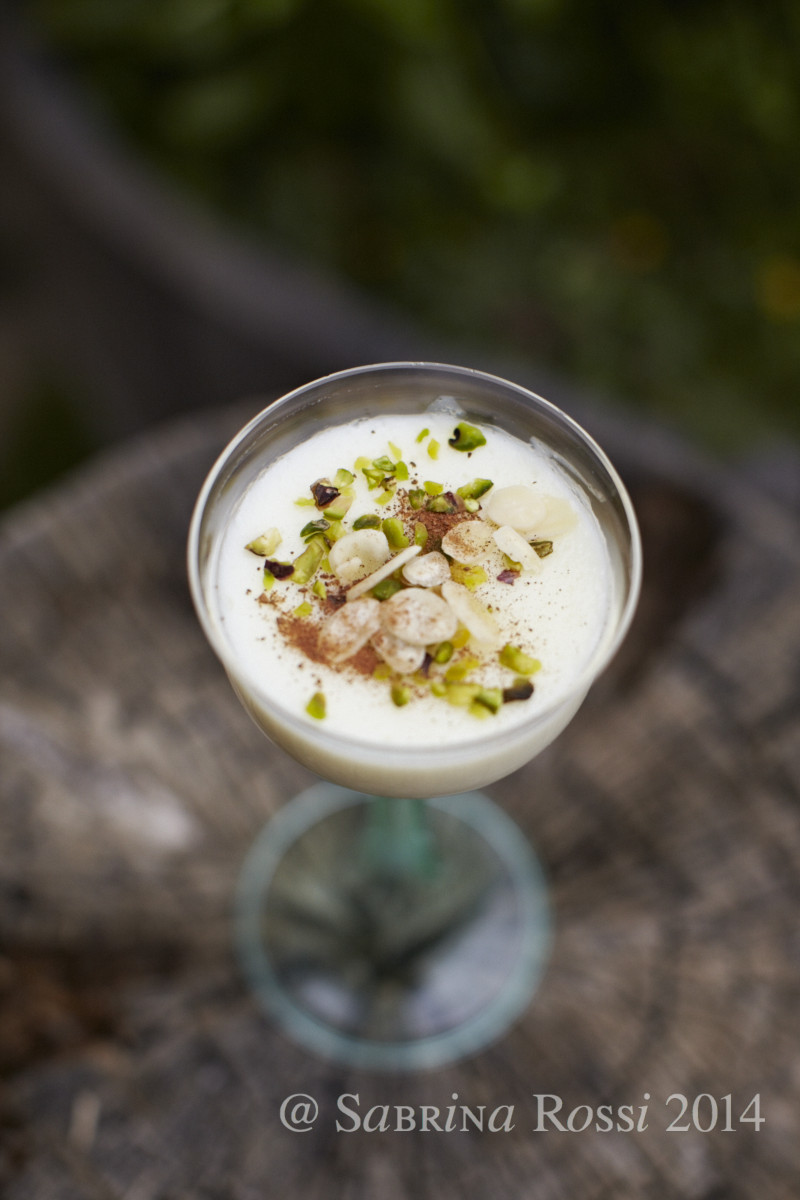 Around the village festivals, the villagers all come into the streets to celebrate their patron saints and the streets are colored stands, but even here the almonds can not miss and the mastery of pastry peddlers here nougat and crunchy almonds that shine under the lights of the stall turn.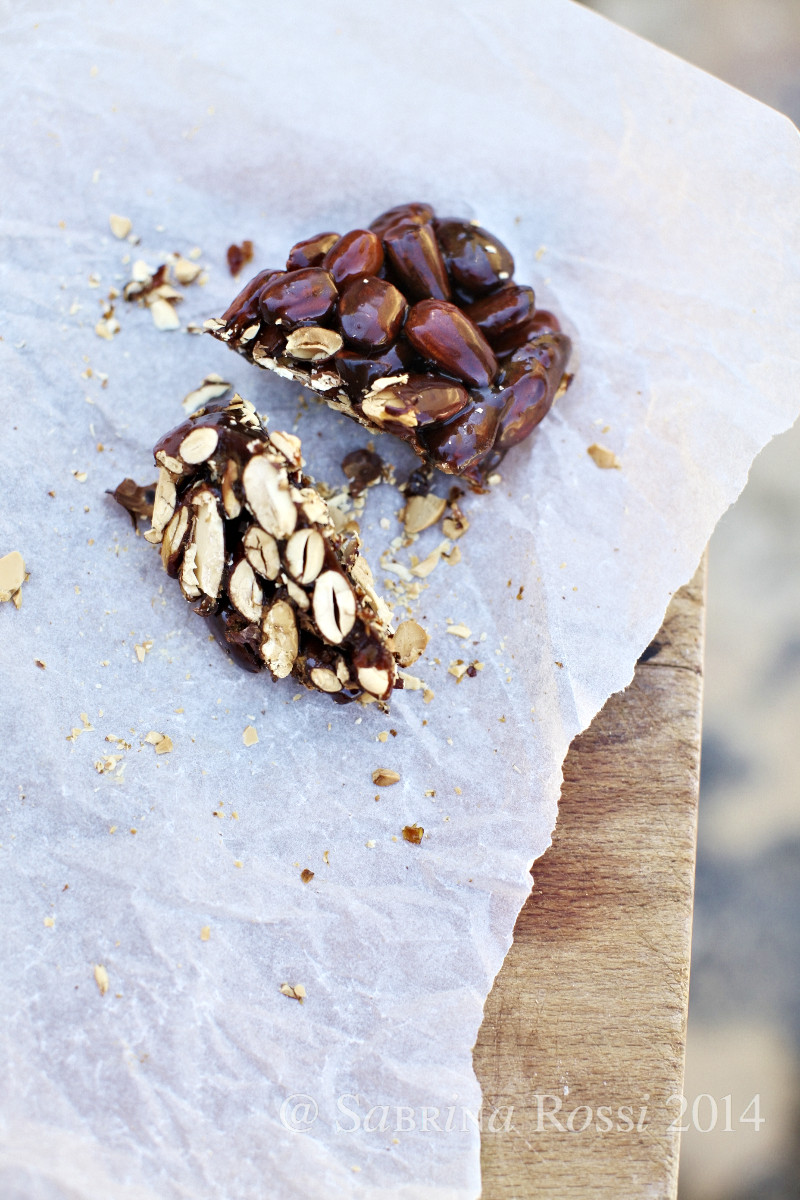 But even at home this almond brittle is done quickly and is the basis of the classic Sicilian parfait, the crunchy almonds.
If the almonds are left on 'tree and calmly collect them at the end of summer here they are in the classic look we all know covered with a brown skins, you can toast or you can use flour as a base no matter how sweet, almond will always be a tasty ingredient …
Cake with Almonds and Oil
(Recipe inspired by the cookbook Fabrizia Lanza, Anna Tasca Lanza Cooking School International)
Ingredients:
40grams Oatmeal Flour
40gr AP Flour
80gr Almond Flour
1.5 tsp baking powder
1 tsp salt
3 eggs
55gr brown sugar
30gr light moscovado sugar
1ooml  Extra Virgin Olive Oil
1/2 teaspoon vanilla extract
1/4 teaspoon almond extract
Zest of 1 lemon
butter to prep the pan
100gr fresh almonds
Lemon Glaze:
1/2 lemon, juiced
150 gr powdered sugar
Preheat oven to 180°C. Butter and flour a bundt cake pan, set aside. In a small bowl, mix all the flours, baking powder, and salt together. In a larger bowl, combine eggs and sugar until soft and light, whisk together and stream in the olive oil to incorporate. Add the extract and lemon zest.
Add the dry ingredients into the wet ingredients and mix with a spatula. Pour the batter into the pan and bake for approx 20-30 minutes, rotate pan halfway through cooking.
Let it cool 30 minutes in the pan, then carefully remove and cool completely on a drying rack.
Make the glaze while the cake cools. Combine powdered sugar and lemon juice with a fork and mix until smooth and shiny. Pour glaze over the cooled cake. Garnish with chopped toasted almonds.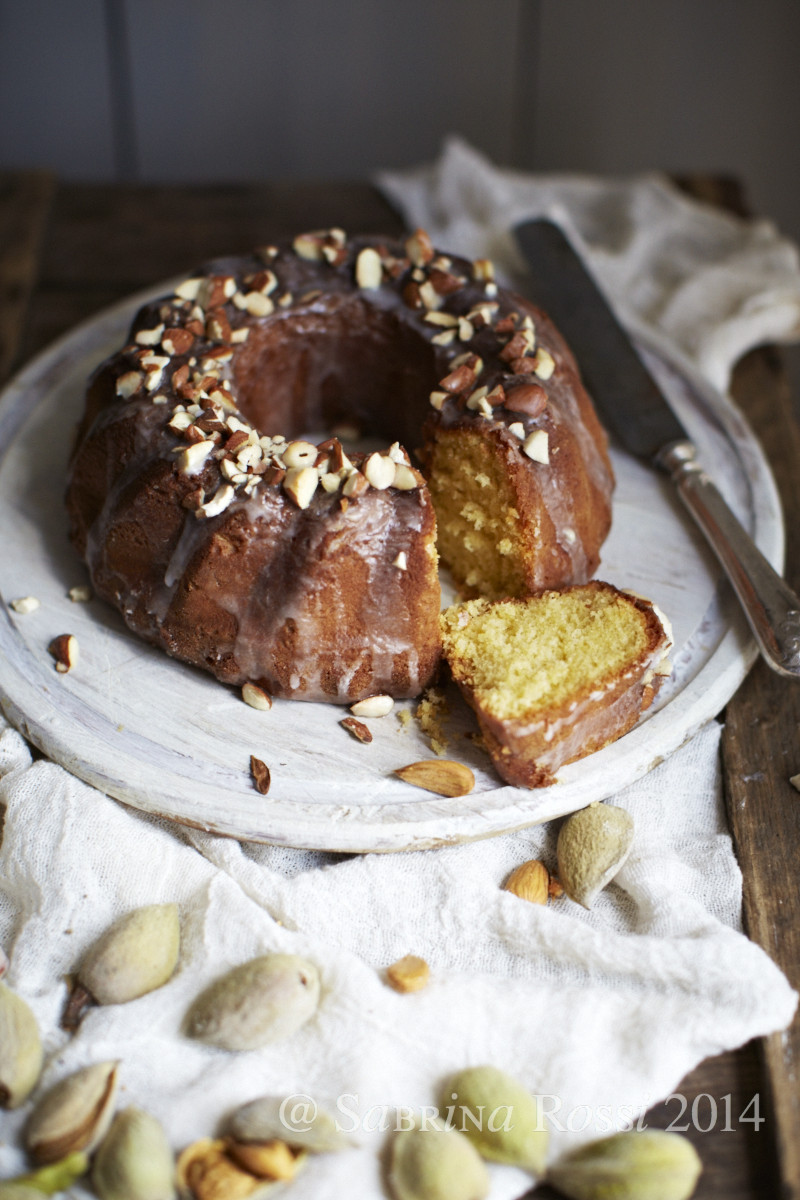 (VERSIONE ITALIANA)
Stare da soli per qualche settimana, sola la maggior parte del tempo, anche poca o niente connessione a internet, non è così male. Potevo davvero solo ascoltare. Ascoltare il mio pensiero, mettere a fuoco e apprezzare la natura tutto intorno.
Non fraintendetemi c'erano ancora tutte le altre persone a Case Vecchie, alcuni di loro vivono li altreci lavorano … ma sapete quello che intendo, nessuno con cui condividere il lavoro con e un appartamento tutto per me.

Da quel giornate estive.
Basta un passo fuori dal mio ufficio, e sono in mezzo a morbide, lunghe linee infinite dalle forme arrotondate, sono le colline e la trama dei campi. Curve d'oro disegnato da trattori durante la trebbiatura in contrasto con il nero dei campi incolti.
Qui tristezza o ansia mi lasciano per un sorriso.
La luce è quella appena prima del tramonto, dorato e caldo. Lascio il mio "ufficio" e prendo la macchina. Guido attraverso vigneti e uliveti, appesa al volante della vecchia Panda Fiat, a guardare  attentamente la stradina bianca per evitare le enormi buche. Fermare l'automobile in mezzo alla strada per scattare una foto ai rami dei mandorle. Come si può resistere a questa luce?
Spogli d' inverno, i primi a ricoprirsi di fiori bianchi col nuovo anno, in estati pieni di strani frutti… eccoli i mandorli sparsi per le campagne siciliane.
Come meravigliarsi se le mandorle sono diventate le protagoniste della tradizione pasticcera siciliana. Pasta di mandorle, orzate, cassate, biancomangiare, parfait al torrone. Tutte hanno in comune questo meraviglioso ingrediente…
Nelle campagne in estate dorate per i campi di grano si distinguono questi alberi bassi e pieni di foglie ma a ben guardarli non ci sono solo foglie… eccoli qui alla luce dorata della fine di una lunga e calda giornata siciliana le mandorle ancora intrappolate nel loro guscio verde.
Questo frutto è un vero tesoro a causa dei suoi benefici per la salute, mangiare mandorle regolarmente aiuta nella regolazione del colesterolo, perché aumenta il livello di HDL  nel sangue, detto anche "colesterolo buono", perché riduce il livello di quello nocivo, LDL ; è ricco di minerali e vitamine, come il fosforo, quindi è un ingrediente chiave nella dieta anche per ossa e denti.
E inoltre, sembra essere molto importante avere in una dieta bambini perché aiuta durante lo sviluppo e il funzionamento del cervello umano.
Alcune di queste mandorle verranno colte ora per ora per mangiarle fresche a colazione, sbucciate e lasciate in ammollo in acqua e sale per togliere la sottile pellicina oppure da queste si può preparare un ottimo latte di mandorla. La pellicina non contine molti nutrienti ed è spesso fonte di molte allergie per cui si può tranquillamente eliminarla.
Ecco qui uno dei dolci più semplici e più freschi con le mandorle:
biancomangiare, decorato con un pizzico di cannella e un cucchiaino di pistacchi di Bronte.
In giro per le feste di paese, i paesani escono tutti nelle strade per celebrare i loro santi protettori e le strade si colorano di bancarelle ma anche qui le mandorle non possono mancare e dalla maestria di pasticceri ambulanti ecco il torrone e croccanti con mandorle che luccicano sotto le luci della bancarella di turno.
Ma anche a casa questo dolce viene fatto velocemente ed è la base del classico parfait siciliano, quello al croccante di mandorle.
Ma se le mandorle si lasciano sull' albero e si raccolgono con calma a fine estate eccole li nel classico aspetto che tutti conosciamo ricoperti da una pellicina marrone, si possono tostare o si può utilizzare la farina come base di come dolce non importa, la mandorla sarà sempre un gustoso ingrediente…
Torta alle mandorle e olio
(Ricetta ispirata al ricettario di Fabrizia Lanza, Anna Tasca Lanza International Cooking School)
Ingredienti
3 uova
40 gr farina di avena
80gr farina di mandorle
4o gr farina 00
100 ml olio
55 gr zucchero canna
30gr zucchero moscovado chiaro
100gr mandorle fresche
1 cucchiaino di lievito per dolci
100gr di mandorle fresche
Lemon Glaze:
Mezzo limone, Juiced
150 gr di zucchero a velo
Preriscaldare il forno a 180 ° C. Tostare le mandorle in forno.
Imburrate e infarinate una tortiera da ciambellone mettere da parte. In una piccola ciotola, unisci tutte le farine, il lievito e il sale insieme. In una ciotola grande, unire le uova e lo zucchero fino al morbido e leggero, aggiungere a filo  l' olio d'oliva e  incorporare bene con una spatula. Aggiungere gli estratti e la scorza di limone.
Aggiungere gli ingredienti secchi agli ingredienti umidi e mescolare con una spatola. Versare l'impasto nella teglia e infornare per circa 20-30 minuti, ruotare padella a metà cottura.
Lasciare affreddare per almeno 30′ nella teglia, poi rimuovere con attenzione e raffreddare completamente su una gratella.
Tritare le mandorle.

Preparare la glassa, mentre la torta si raffredda. Unire lo zucchero a velo e il succo di limone con una forchetta e mescolare fino a che liscio e lucido. Versare glassa sopra la torta raffreddata. Guarnire con mandorle tostate tritate.