in Italiano qui
This post is dedicated to all mum all over the world…
I was watching a beautiful Italian movie, lately they seems quite rare, but "Basilicata Coast to Coast" is poetical, sarcastic and…honest.
It´s not a melodramatic movie, it is one that make you appreciate Italy and its regional tradition, in this case of Basilicata
Basilicata is a really small region, often it is forgotten, and unknown even for the Italians. It is bourdering two seas, it is reach of tradition and food deliciousness, like every place in Italy on the other hand.
In this cut of the movie, they speak about "Pane Sponzato", sponzato is a slung word that they explain in the movie (and I will try to translate for you):
"dopo un poco di ore che la frittata sta nel pane, noi diciamo che "sponza" cioé…quando la frittata si mischia col pane e diventa tutt´uno"

(after a while that you let the frittata in the panino bread, we said that "sponza" that means…the frittata blends together with the bread and became one thing)
….delicious.
Bread and frittata is tightly bound  to my child memories of outdoor trips, lunch on the beach, and sunny days. My mum used to make one panino for each of us with a simple frittata, often with zucchini.
Of course, my mum frittata´s panino has another taste, and as they said in the lyric of the song:
Il pane e frittata di mia madre
non si batte,
perché non è che bastano due fette di pane e la frittata per fare
il pane e frittata che fa mia madre.

Se al pane e frittata che fa mia madre gli levi mia madre,
rimane un panino con la frittata
generico, semplice, banale, ordinario.
(Mum´s bread and frittata/ it´s  unbeatable/ because it´s not enough two slices of bread and the frittata to make/ bread and frittata that my mum does// If to the bread and fritattata of my mum you take away my mum/ it last a panino with frittata/generic, simple, banal,ordinary)
But today, I am  giving you my version of  "pane e frittata".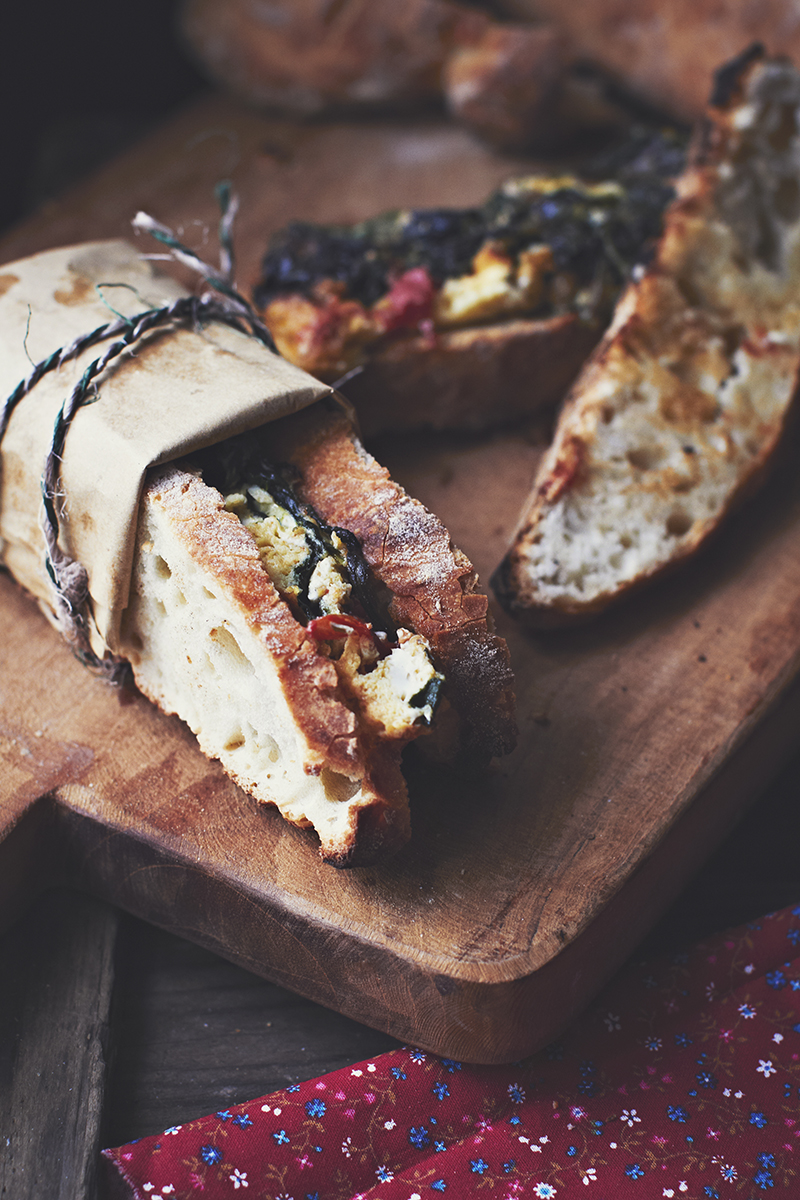 First of all, since the recipe is quite simple you need all special ingredients. So I used fresh baked bread, new spinach, the winter tomatoes (http://diaryofatomato.com/2011/09/12/lecce-puglia/)
For the bread I used the recipe e NoKnead-Bread by Jim Lahey of Sullivan St Bakery owner, http://www.sullivanstreetbakery.com/recipes
The recipe has become famous in 2006 when he presented Mark Bittman for the New York Times so it has been around in web for a while and now there are various versions of this recipe … (at this very moment I'm trying a Gluten free version for a friend of mine). I reported here the recipe: it is a bread where you don´t knead the dough at all and baked in the oven with a technique that allows to obtain the same consistency as the bread made with a wood oven (I'm not exaggerating). The only thing you need is a pan without handles that can melt (preferably cast iron).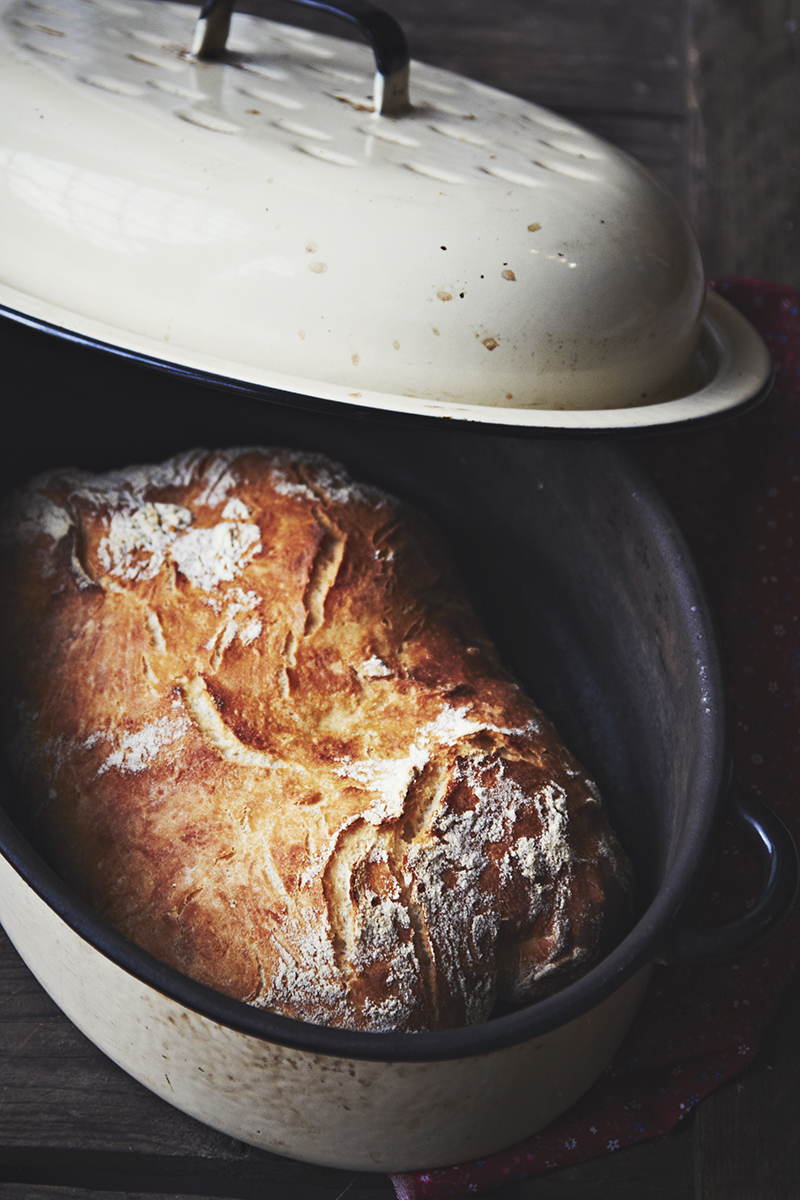 Then I made up  spinach omelet.
For the recipes …
I used this recipe from http://www.sullivanstreetbakery.com/recipes
No Knead Bread
3 cups (430g) flour
1½ cups (345g or 12oz) water
¼ teaspoon (1g) yeast
1¼ teaspoon (8g) salt
olive oil (for coating)
extra flour, wheat bran, or cornmeal (for dusting)
Equipment:
Two medium mixing bowls
6 to 8 quart pot with lid (Pyrex glass, Le Creuset cast iron, or ceramic)
Wooden Spoon or spatula (optional)
Plastic wrap
Two or three cotton dish towels (not terrycloth)
Process:
Mix all of the dry ingredients in a medium bowl. Add water and incorporate by hand or with a wooden spoon or spatula for 30 seconds to 1 minute. Lightly coat the inside of a second medium bowl with olive oil and place the dough in the bowl. Cover the bowl with plastic wrap and let the dough rest 12 hours at room temperature (approx. 65-72°F).
Remove the dough from the bowl and fold once or twice. Let the dough rest 15 minutes in the bowl or on the work surface. Next, shape the dough into ball. Generously coat a cotton towel with flour, wheat bran, or cornmeal; place the dough seam side down on the towel and dust with flour. Cover the dough with a cotton towel and let rise 1-2 hours at room temperature, until more than doubled in size.
Preheat oven to 450-500°F. Place the pot in the oven at least 30 minutes prior to baking to preheat. Once the dough has more than doubled in volume, remove the pot from the oven and place the dough in the pot seam side up. Cover with the lid and bake 30 minutes Then remove the lid and bake 15-30 minutes uncovered, until the loaf is nicely browned.
Spinach Frittata
ingredients for 4 panino:
300g fresh spinach ( tender leaves and small)
5 eggs
2 tablespoons  pecorino romano cheese (or a strong aged cheese)
2 anchovy fillets in oil
4 tablespoons of extra virgin olive oil
5 cherry winter tomatoes (or any other if you can not find it)
1/2 fresh chili slices
1 crushed garlic
salt
Heat the frying pan with 2 tablespoons of oil, add the anchovy fillets sliced and let them melt in the oil. Add the spinach cook them on low heat with a little water ( 2 tablespoons), garlic and salt. In the end add the tomatoes cut into slices (removing seeds). Turn up to high heat to evaporate the liquid.
Meanwhile, beat the eggs  ( not too much, just to break the yolks and mix just to the whites ) a pinch of salt and add the grated cheese, mix a little.
When the vegetables are cooked, pass them in the bowl with the eggs. Then in the same pan heat the oil ( high heat), and pour all the mixture back into the frying pan.
Cook over high heat, moving often enough the pan to prevent the omelet from sticking. When the upper part of the omelet is almost cooked, only slightly damp in the central part. Turn the omelet with the help of the lid. Put the omelet then on fire, so until the " raw "side will be golden too .
Now cut the warm bread. Isn´t it crunchy? And given to the low quantity of  yeast the flavor is delicate, just like bakery bread.
Cut a slice of frittata, put it in between two slices of bread (not too thin)…here it is the secret…let them rest and get flavored for two ours, closed into aluminum foil
Then go out on a beach or just sit in front the TV. Your picnic lunch is ready: that´s it your Panino con la Frittata…sponzato!