This Autumn I had the pleasure to work with Rosenvoile Party Atelier   in Styled Shoot for a inspirational Wedding in Italy and it has been  selected and published from the beautiful Wedding Chicks blog. So finally we can share them with you too.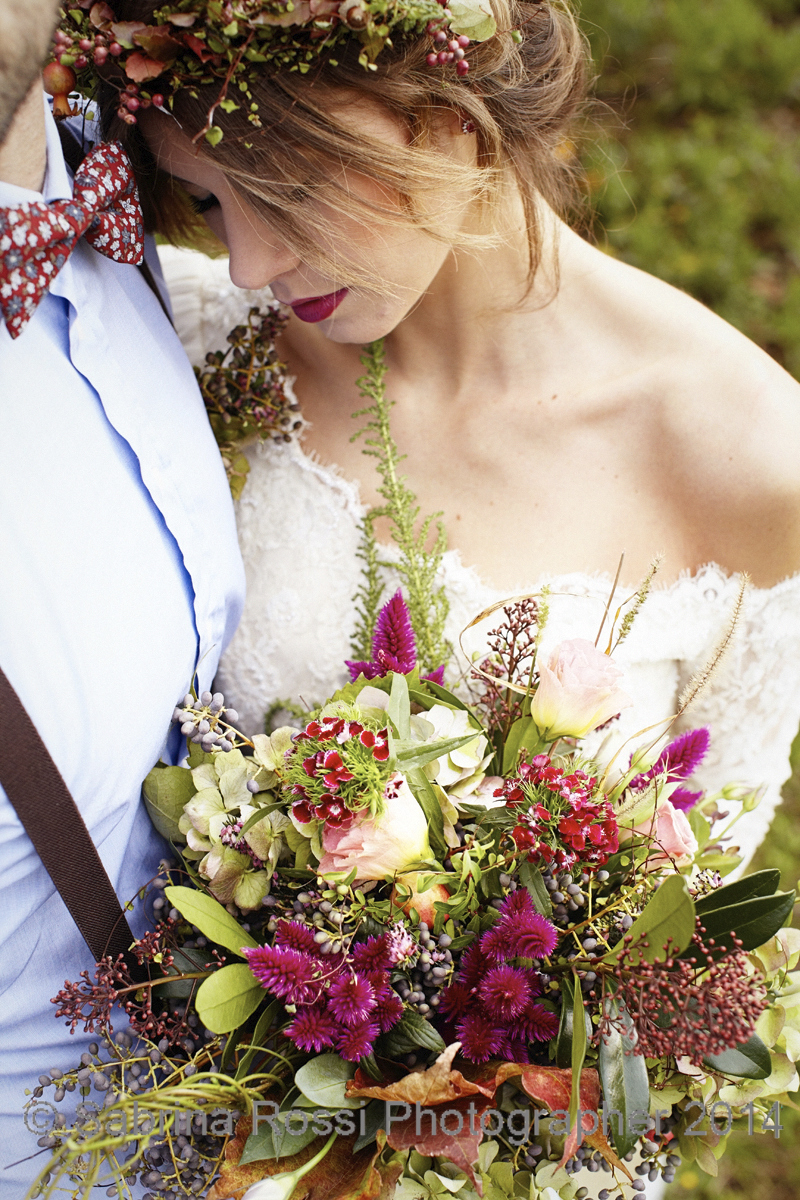 "Fall in love" this is the idea behind the photo shooting.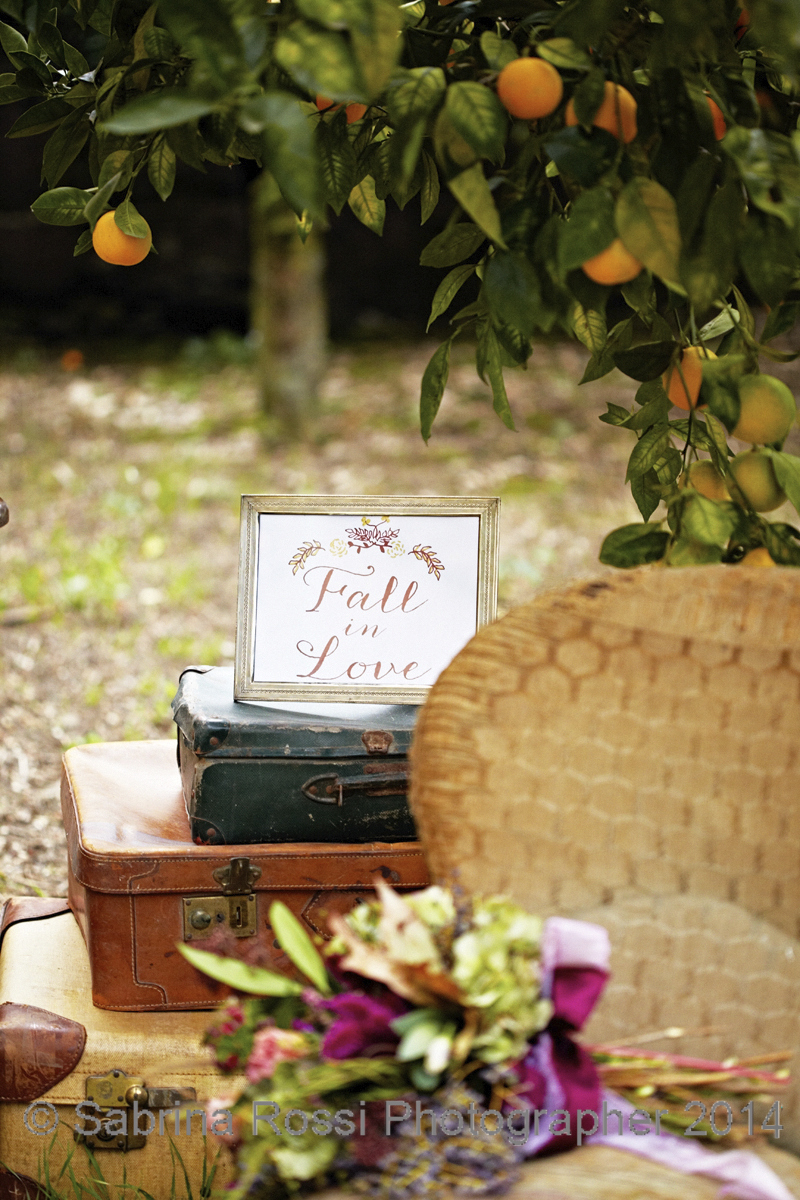 The colors of the Autmn inspired Cristina and Camilla, our stylist and event planner, so field leaves, branches and berries have became part of bouquet and of the decorations.  Purple velvets, gold, vintage and precious details in contrast with the simple flavors of country and rustic materials  gives a taste of Italian Style.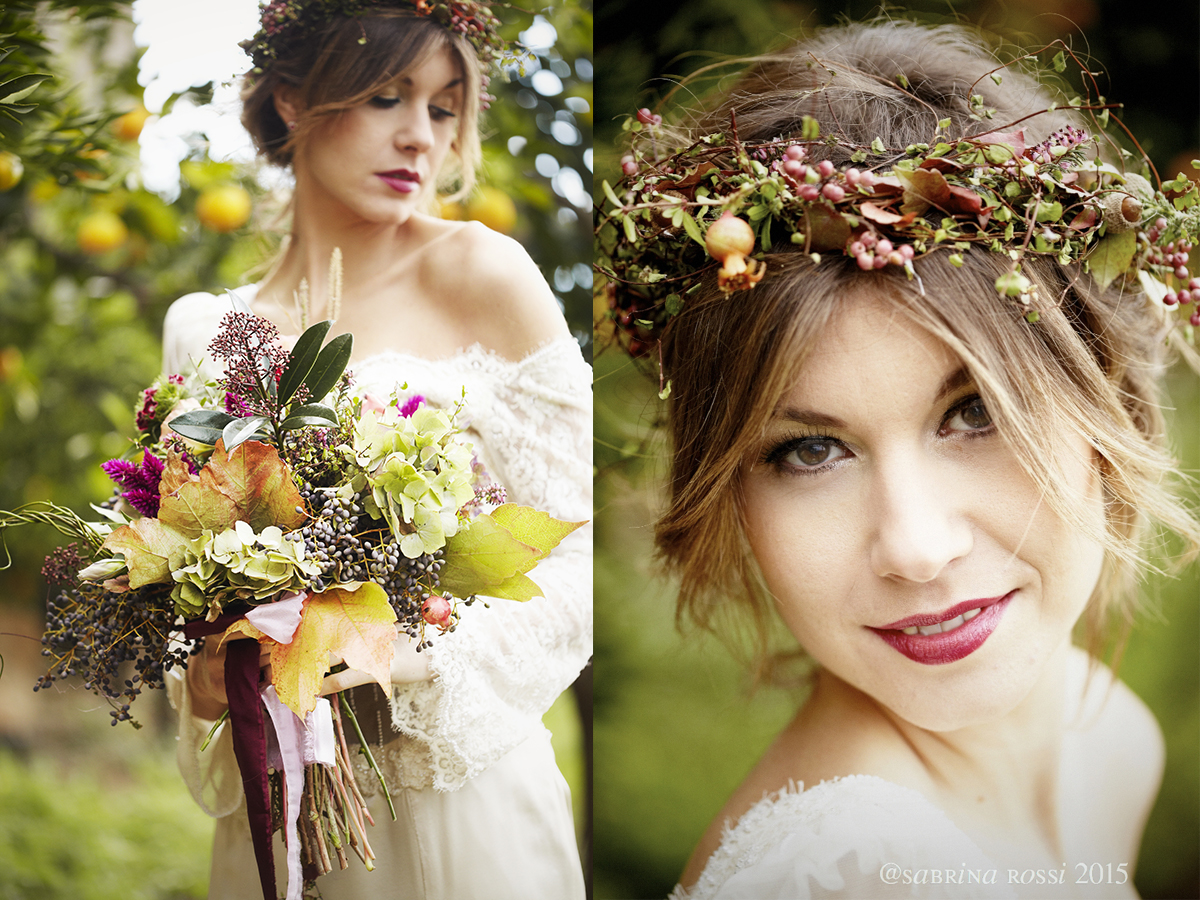 The location is just few kilometers from Rome, and from the seaside: between lines of ancient olives trees with the view on the hills and vineyards is where we decided to set our tables for the wedding party.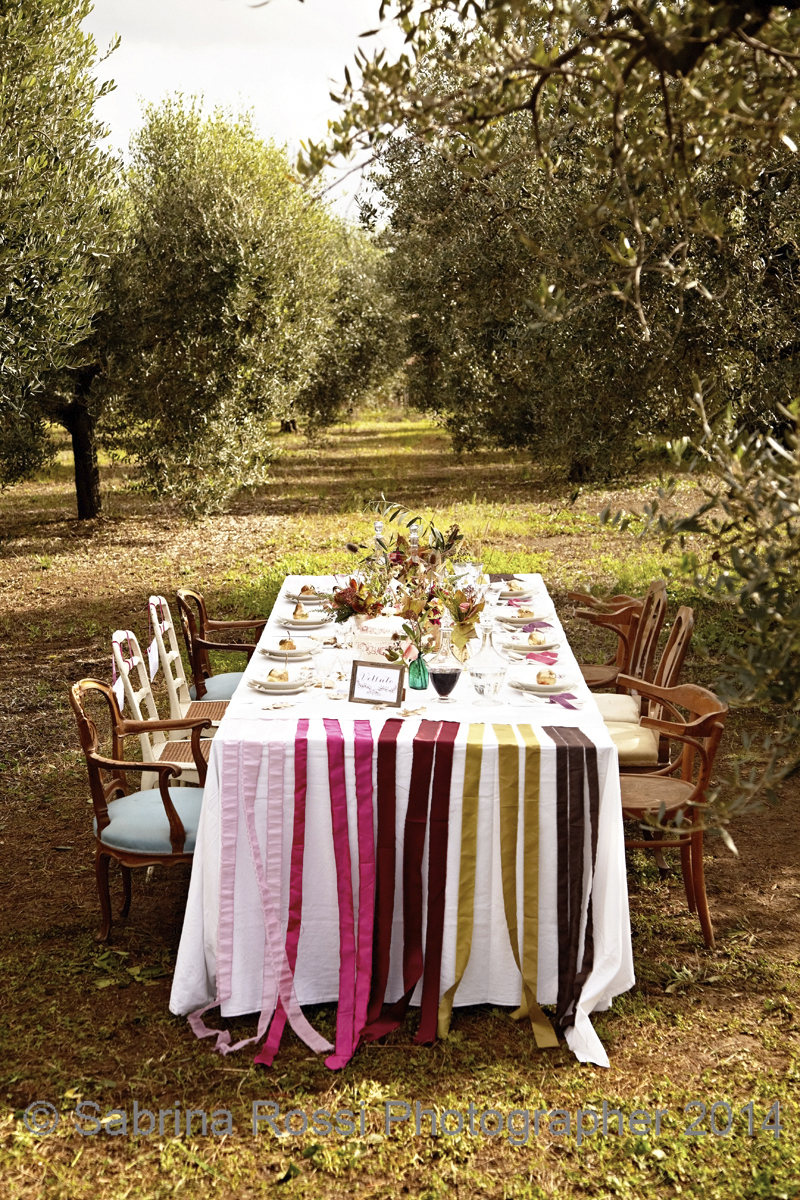 An Italian menu to taste a bit of special Italian dishes on season.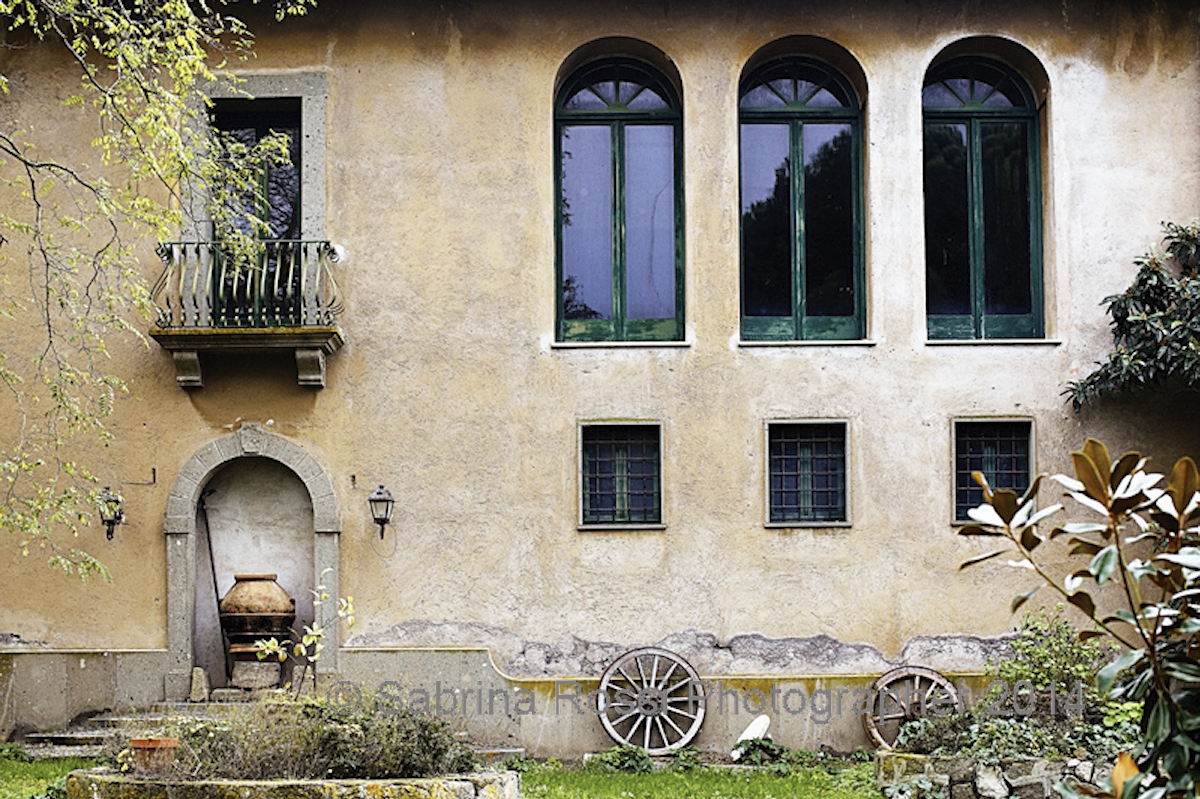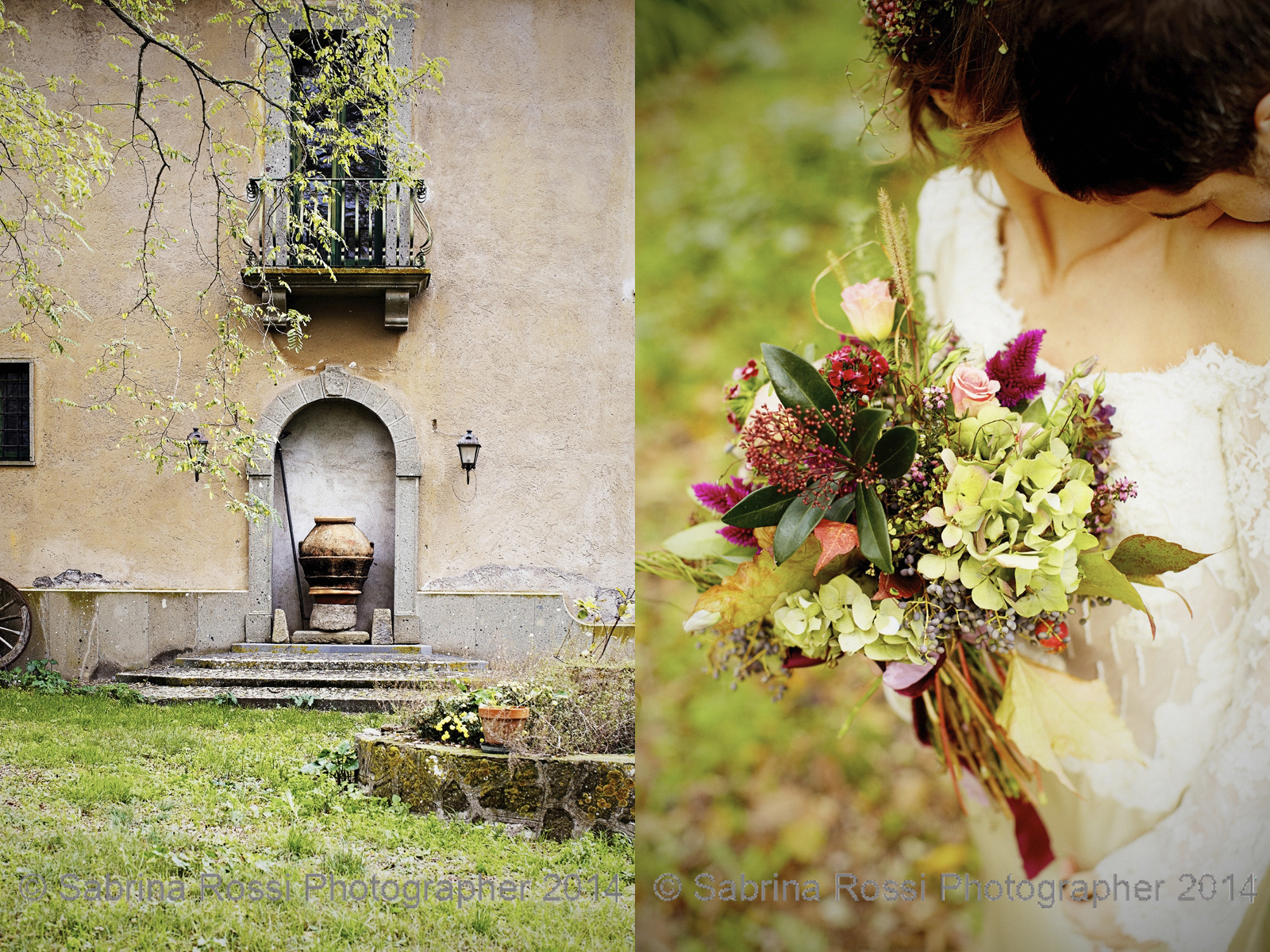 Close to the Villa, on a table, the fruits and other raw ingredients are arranged to show some of the genuine Italian flavors. Just behind the corner of the house, in the middle of the orange trees, we prepared a small "living room" with elegant and styled cakes where is it possible to sit and take a moment to enjoy the view and the sound of nature.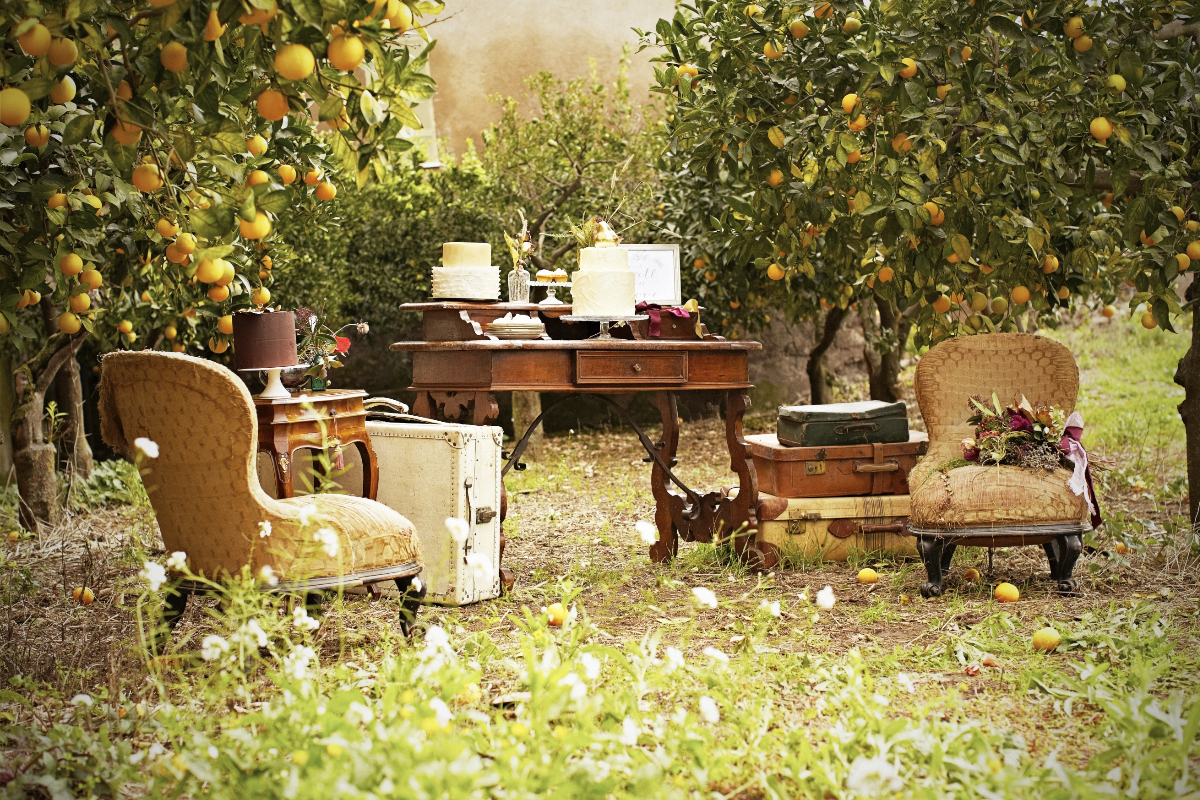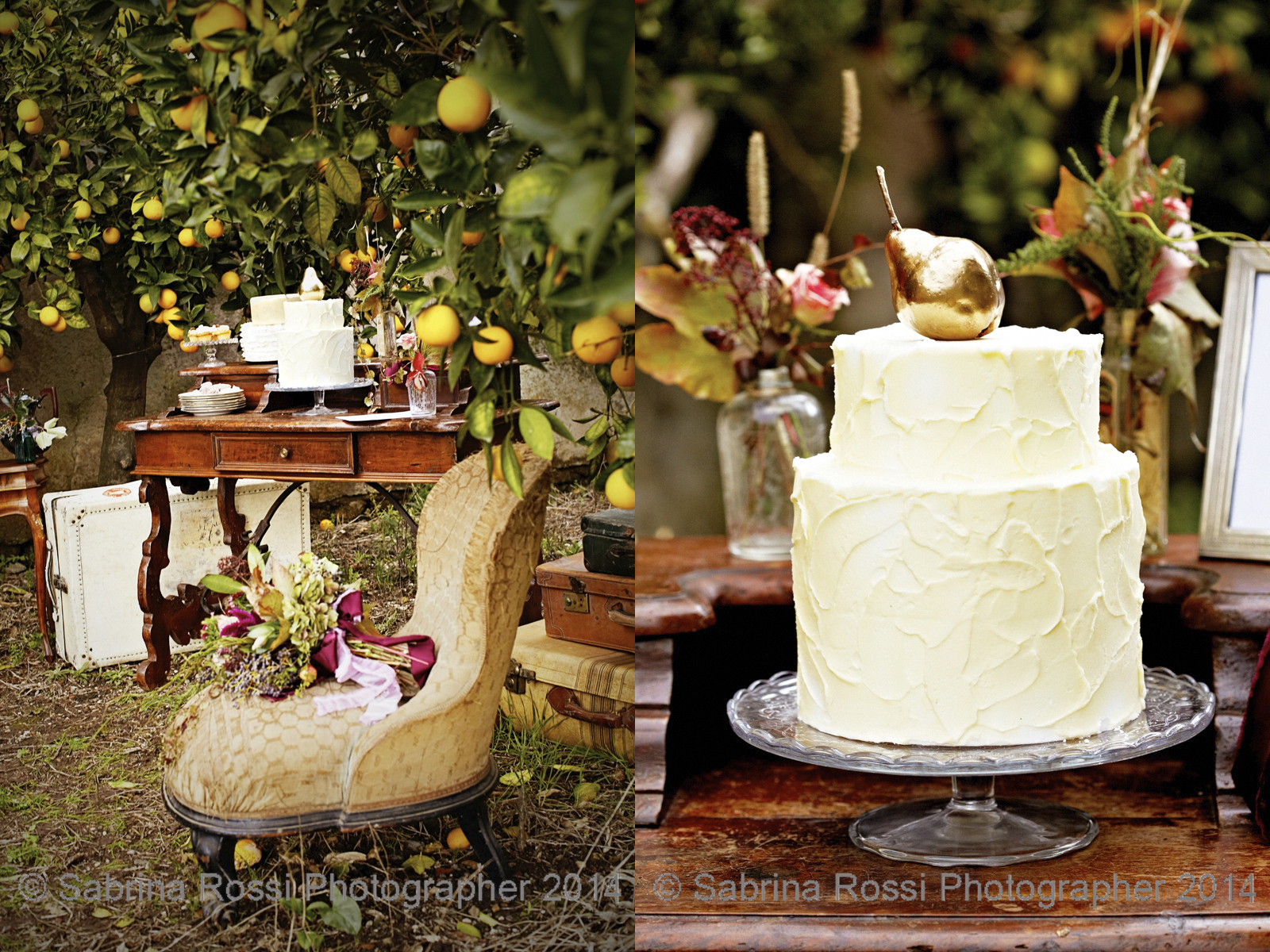 Then, in a old stable, a ball room has been prep, here between golden leaves and purple velvet strips we imagined the bride and groom having their first dance.
Location: Tenuta Ginestreto, a beautiful Villa from the '30s, just a step away from Rome, surrounded from ancient olives trees; this is the perfect location for a romantic wedding in Italy, during quite warm sunny autumnal days. The colors of the orangeries orchard, the red copper of the vineyard with green fields are the background for the fall wedding photo shooting imagined and organized with Rosenvoile Party Atelier.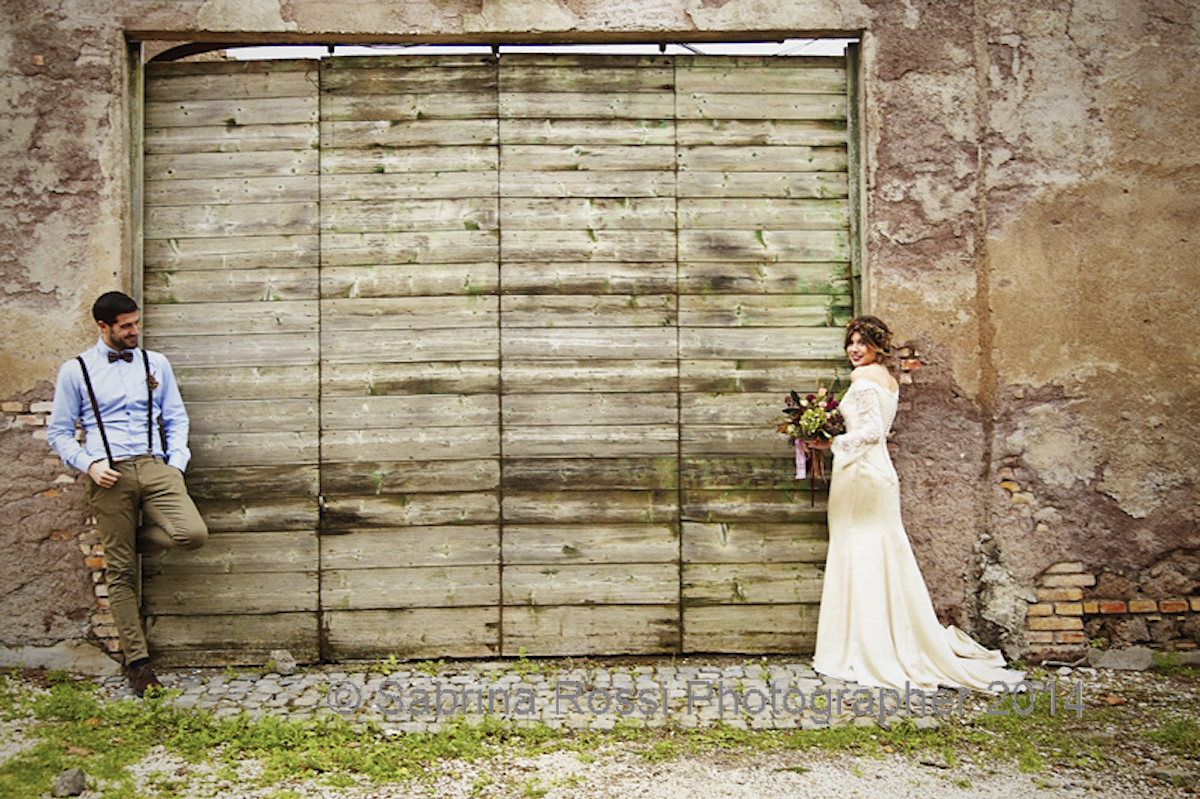 Bride: Refined bridal dress in ivory silk and lace with an exclusive and elegant asymmetrical neckline that leaves uncovered shoulder. Details on the leaves and corsage in beautiful Chantilly lace, embellished with small beads. Bridal Dress by A. Beltramme. Groom: Country chic style for the Groom outfit with a simple elegant touch give it by the silk tie, vintage piece by Ferragamo.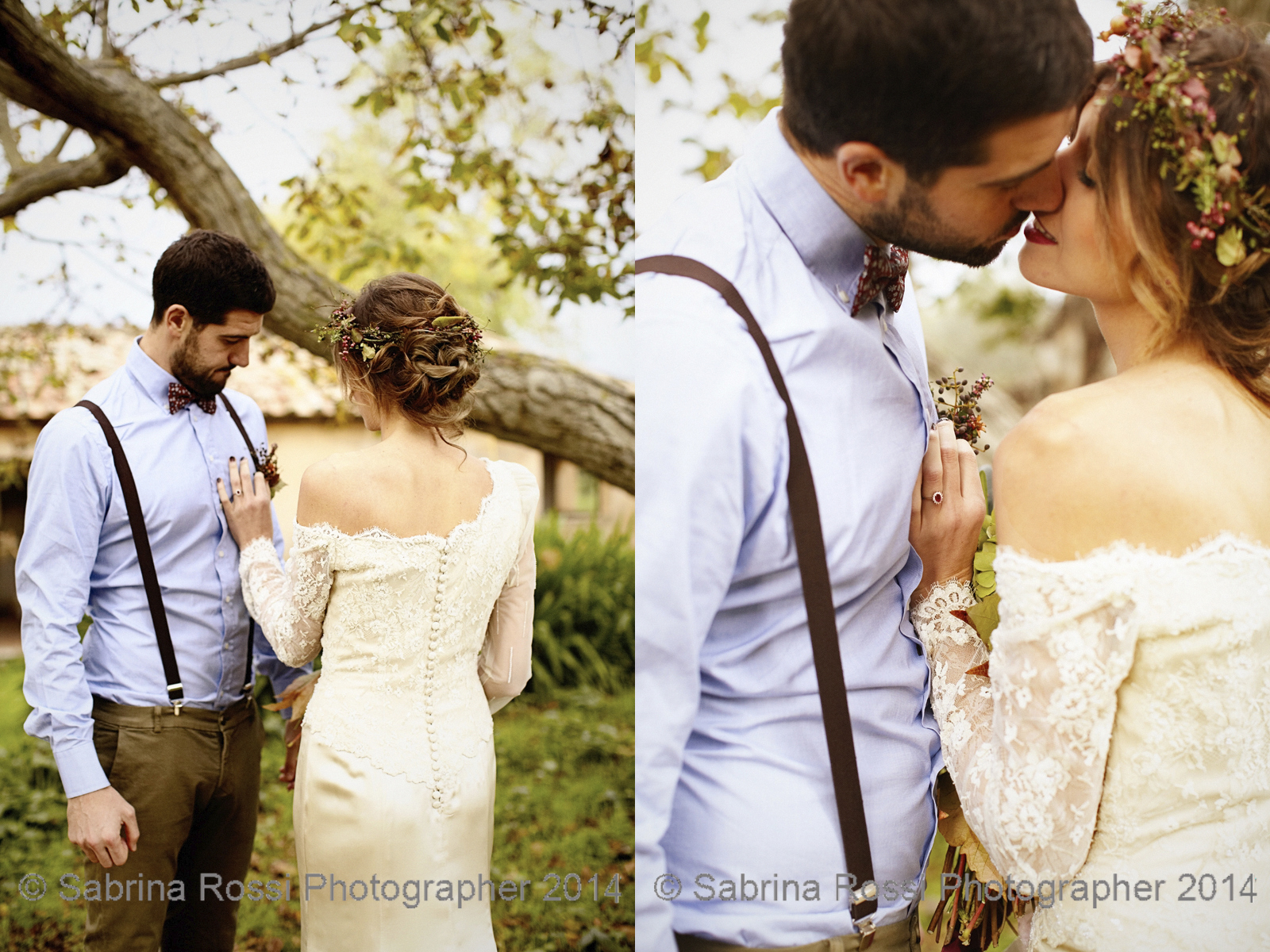 Table Settings: Linen tablecloth embroidered by wise and careful hands, typical of Italian craftsmanship enriched with light satin and velvet ribbons in the colors of the palette choice . Silver cutlery of Sicilian nobility marry with the delicate porcelain from the French taste.A remind to the grandma china and crystals of the old days.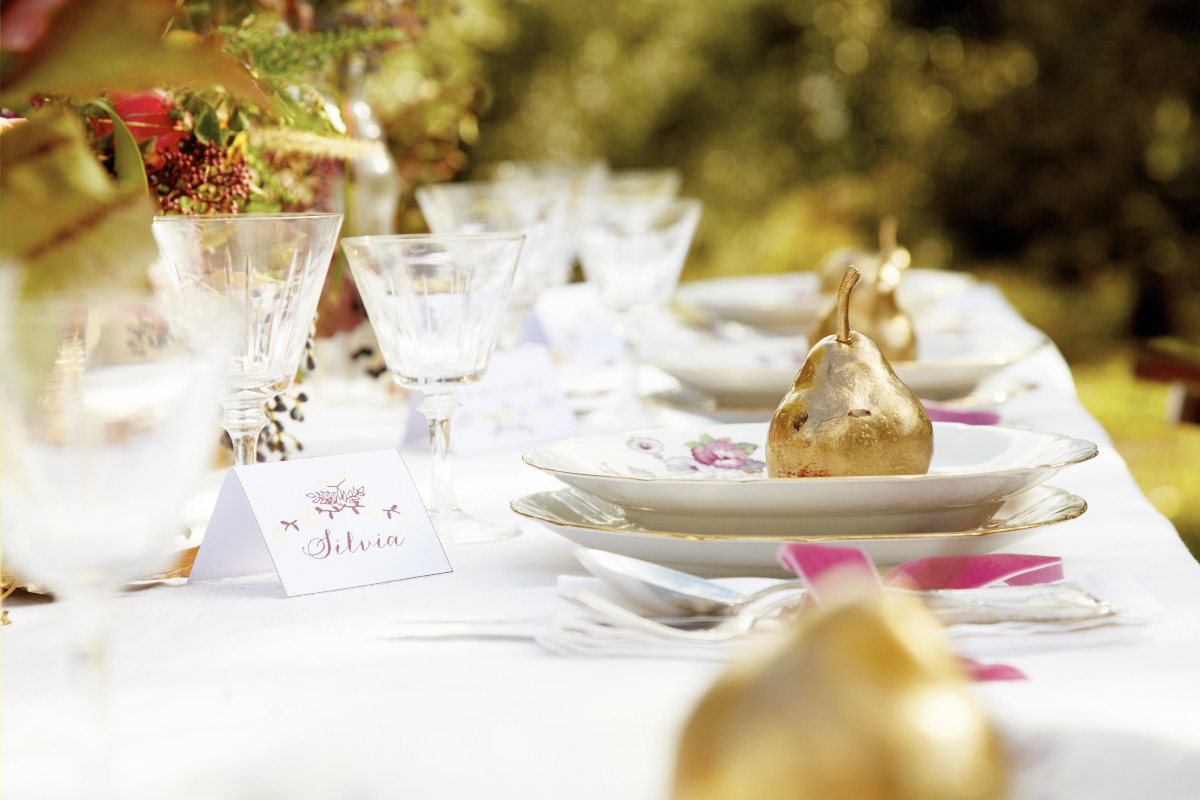 Dessert: Elegant and refined cakes of Fonderia: ethereal icing finish lying in soft "brush strokes" and delicious dark chocolate enriched with naturalistic golden details. Everything is in harmony with the surrounding nature ina dialogue between sophisticated scents, flavors and colors.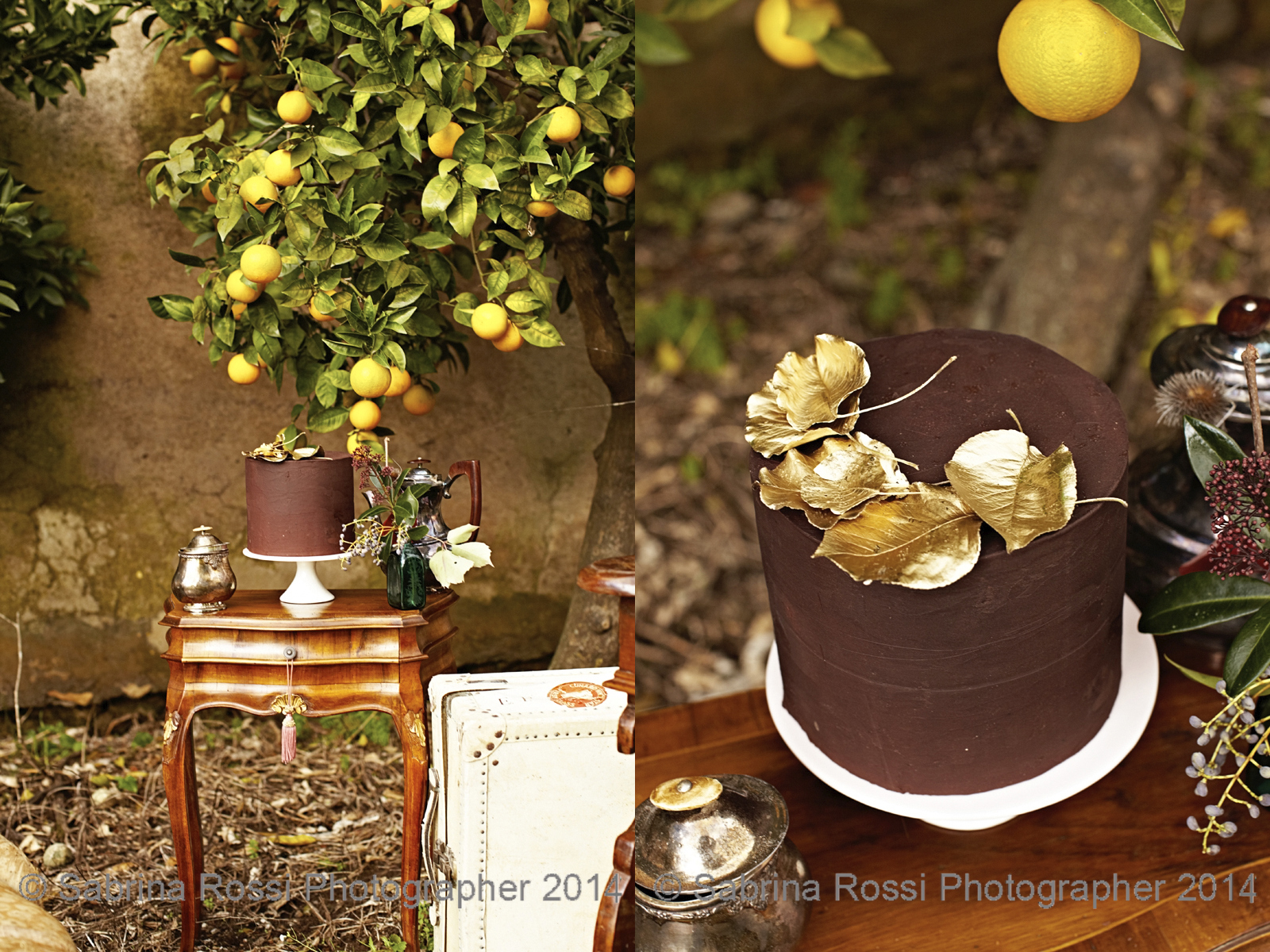 Bouquet (flowers): This beautiful bouquet together with all the flowers were styled from Peperosa Flowers, taking inspiration from color and shapes of the surrounding nature, in a typical Italian Countryside landscape during Autumn season.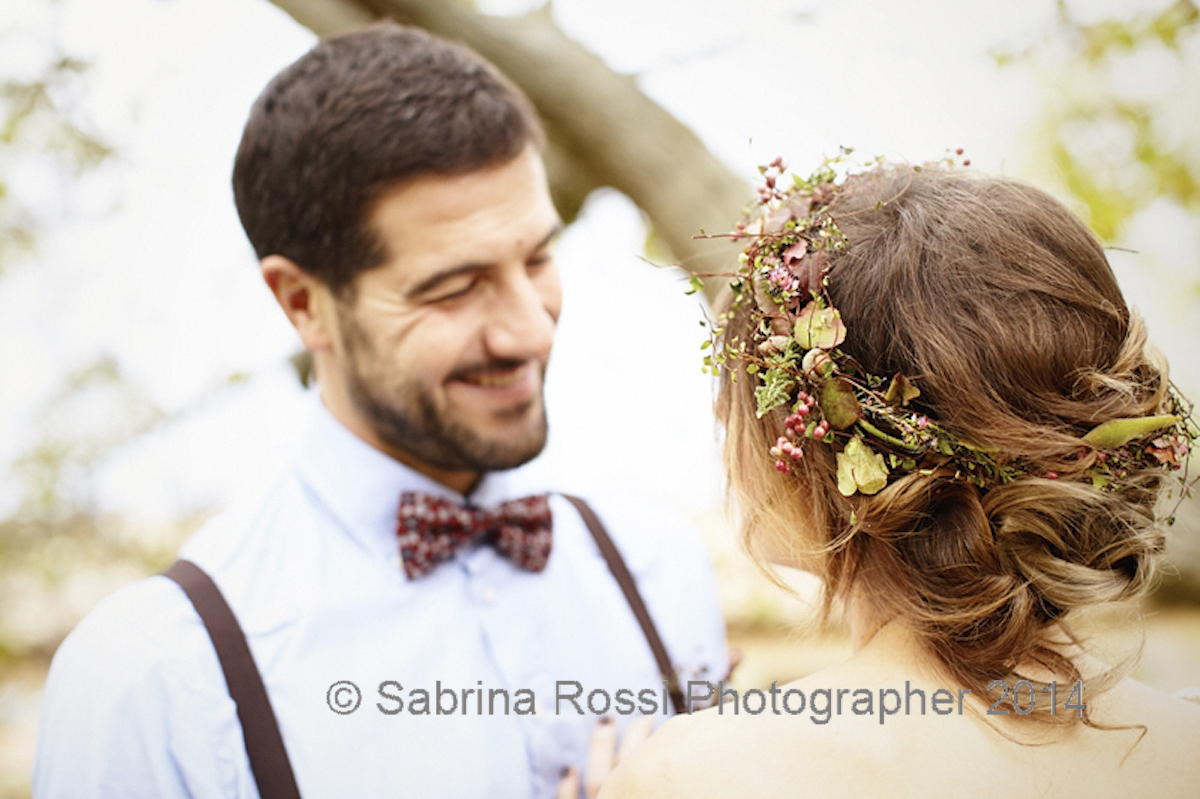 Stationary: White background in shades of gold and Marsala, Pantone 2015 color. Naturalistic decorations, that recalls the ones on the plate frames, together with an italic font to give a romantic soft touch to the stationary collection. Several coordinated pieces designed from L'Idea Grafica, in order to communicate the various scenario of this fabulouse wedding.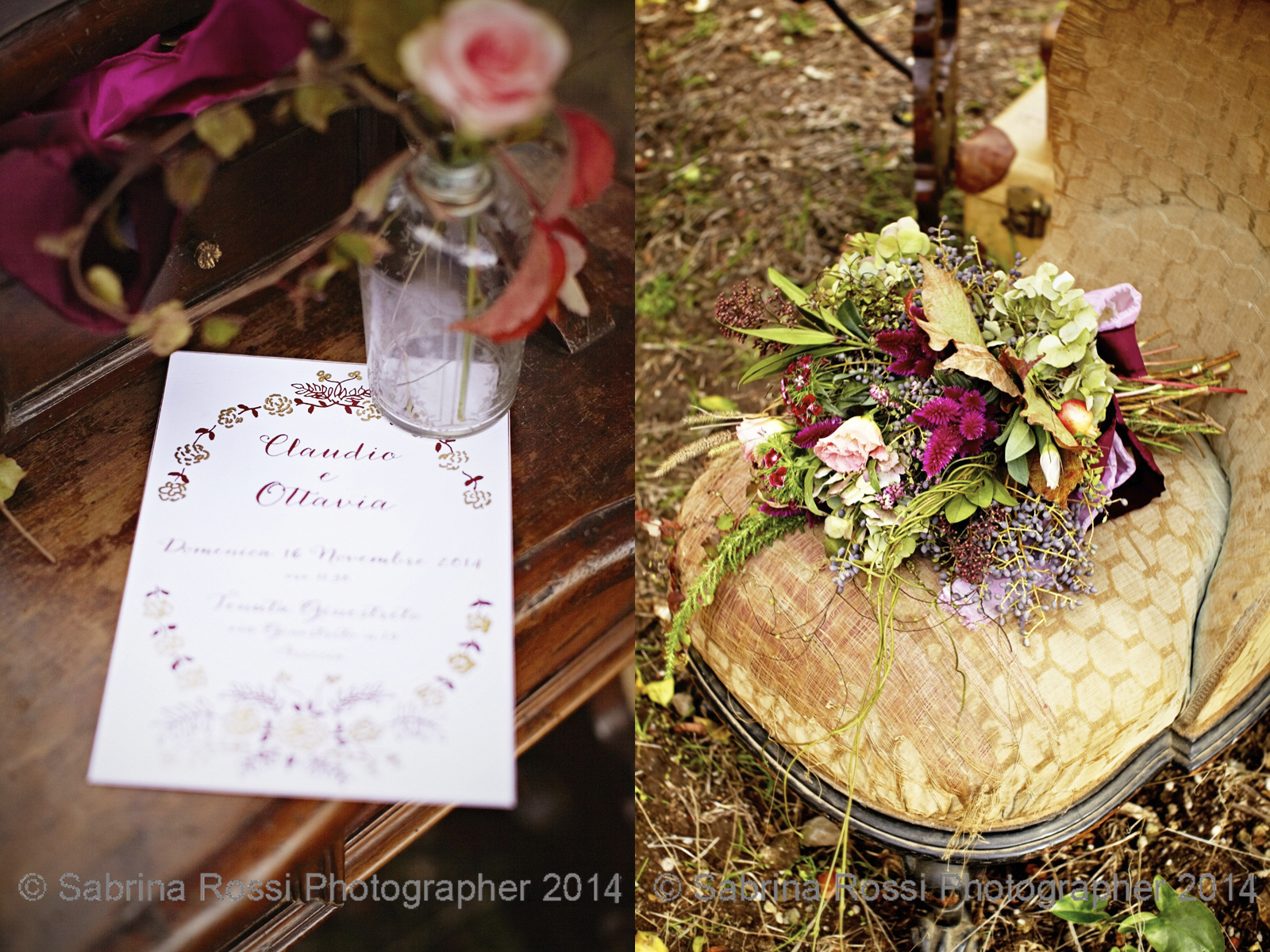 Rings: The beautiful engagement Pigeon Blood Ruby Ring together with Flower Shape Ring in yellow and pink gold are in complete harmony with the vintage atmosphere. As The jewelry Gioielleria Bellantuono A. have proposed also two wonderful simple and elegant wedding rings in pink gold and diamond, artisanal crafted from master of Arezzo Goldsmith Art.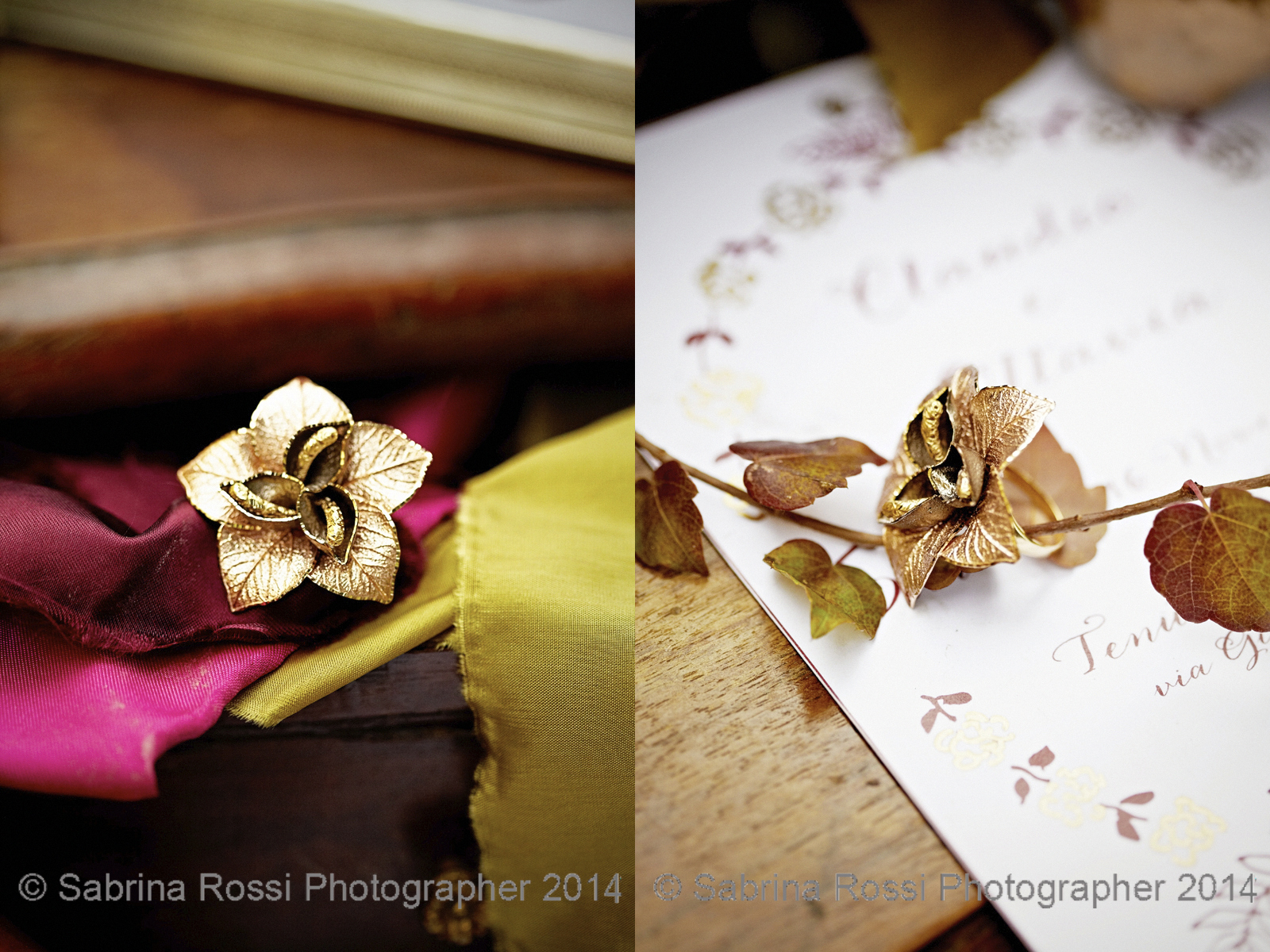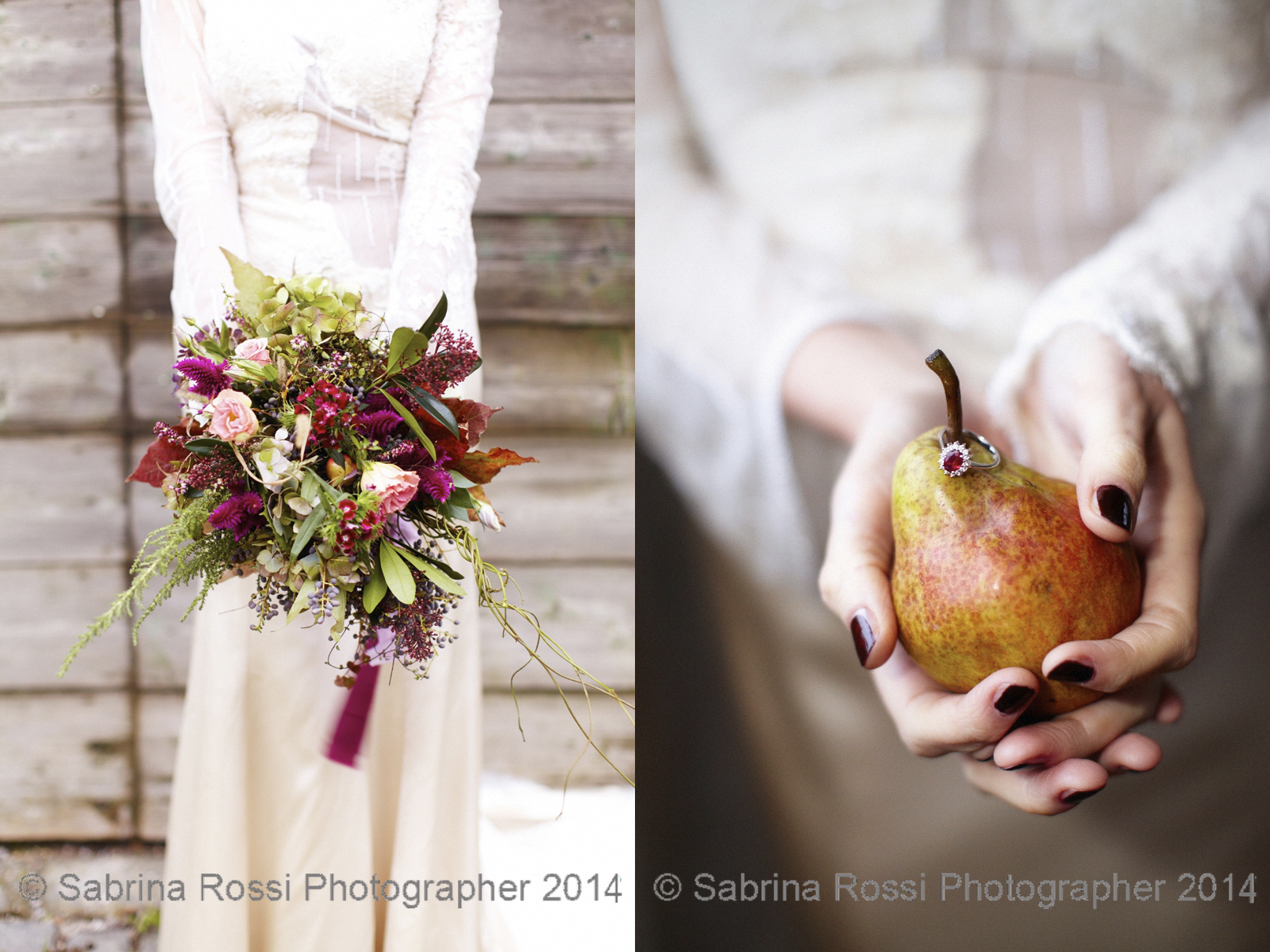 Stylist and Event Planner: Rosenvoile Party Atelier
Photographer:  Sabrina Rossi Photographer
Stationery:L'Idea Grafica
Venue:  Tenuta Ginestreto
Flowers: Peperosa Flowers
Cake: Fonderia
Bride dress: A. Beltramme
Make up: Noella Rossi Make Up
Hair stylist: Luca D. F.
Jewellery: Gioielleria Bellantuono A.
Models: Elena S. and Emiliano C.