Fette Biscottate And Spring Pictures…
#nopalmoil #foodrevolution
Versione Italiana dopo Read More
Yesterday was the first day of spring, 21 March. I was coming back from an amazing job adventure in Milan. Yes! For a fabulous Italian Magazine, La Cucina Italiana.  And from visiting my sweet nephew and nice…There I spent time playing with them, decorating eggs for Easter and baking "bignè di San Giuseppe" for my brother (those are typical sweet treats we use to give for Father's day, 19th March)
Arrived here I have so many things to do but I decide to take it easy for one time in my life. So between cooking, and tasting, styling and shooting I decide that was time to write here about my last recipe:
"Fette Biscottate", I don't like the" rusk"word to translate, but this is what it is, slices of sweet bread with barley malt flavor. I did  this recipe because I decide to start to avoid palm oil and all the things are made with that. It seems impossible, but somewhere I have to start.
Recipe inspired from Anice e Cannella
Fette Biscottate
Ingredients for 30 slices.
500g wholemeal
flour 500g flour  7 cereals
100g caster sugar
10g dry yeast
3 tsp malt barley
450ml water
2 egg whites
100ml sunflower oil 1
10g salt
1 egg yolk
Dissolve the yeast in the water, then add all the dry ingredients, then the egg white, and the oil. Make the food processor work for about 15 ' with the hanger hook, medium-low speed. Finally, add the salt and let it go for other 5 '. Let it in a bowl  for 30', at room temperature, covered with foil. Then divided into 3 loaves of equal size. Let  them rise for about 15 '. Then rolled out with your hands and roll up tightly along the long side (like a baguette) each loaf and place them in trays sliced ​​bread. Let rise for one hour at about 28-30 ° C. As soon as the loaf look enough rised, brush and bake at 180 ° C for 30 '. Then cover with aluminum foil and turn down to 160-170 ° C (depending on the oven). Let cool on wire rack. The next day, slice each loaf in 8mm slices and bake them  at the lowest Temperature until they will become golden and dry. (About 1h baking at 120°C)
So because in Italy as you maybe know we like sweet breakfast this is my way to star days… thinking I have done a small step for a good reason.
NO PALM OIL, that's my daily food revolution.
Ieri è stato il primo giorno di primavera , il 21 marzo. Stavo tornando da un lavoro incredibile avventura a Milano . Sì ! Per un favoloso rivista italiana , La Cucina Italiana . E da visitato il mio dolce nipoti … Ci ho trascorso del tempo a giocare con il , decorazione delle uova di Pasqua e la cottura " bignè di San Giuseppe " per mio fratello ( quelli sono dolcetti tipici dolci che usiamo per dare per la Festa del papà , 19 marzo ) Arrivato qui ho così tante cose da fare , ma decido di prendere facilmente per una volta nella mia vita . Così tra la cucina e degustazioni , styling e foto ho deciso che era tempo di scrivere qui su mia ultima ricetta : " Fette biscottate " , non mi piace la parola " Rusk " per tradurre , ma questo è quello che è , fette di pane dolce con sapore di malto d'orzo . Ho fatto questa ricetta perché decido di iniziare a evitare che l'olio di palma e di tutte le cose sono fatte con quello. Sembra impossibile , ma da qualche parte devo iniziare.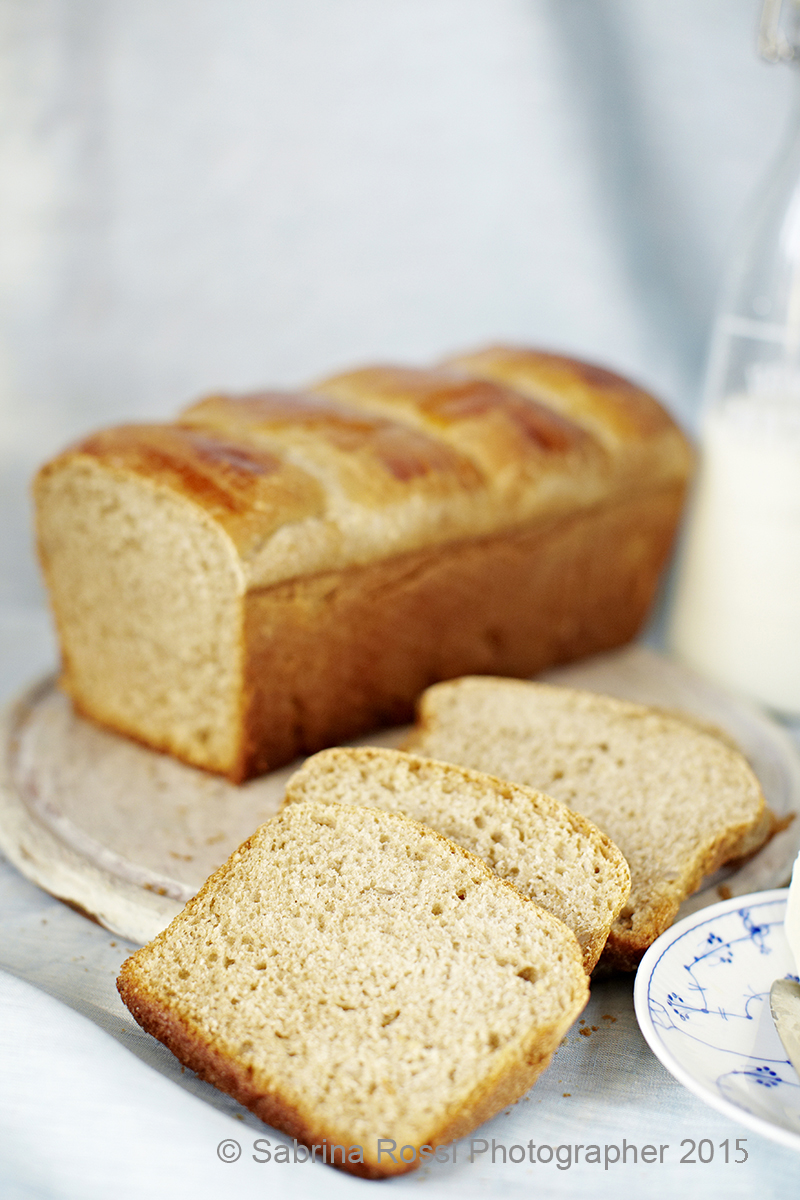 Ricetta ispirata da Anice e Cannella
Fette Biscottate ai 7 Cereali
500g farina integrale
500g farina 7 cereali
100g zucchero semolato
10g lievito birra secco
3 cucchiaini di malto d'orzo
450ml acqua
2 albumi
100ml olio di semi di girasole
10g sale
1 tuorlo
Sciogliere il lievito in acqua, poi aggiungere tutti gli ingredienti secchi, quindi l' albume, e l'olio. Far lavorare il robot per circa 15′ con il gancio a uncino, velocità medio-bassa. Infine unire il sale e far lavorare altri 5′.
Far riposarre per 30′ nella ciocotola del robot, a temperatura ambiente coperto da pellicola. Poi suddividere in 3 panetti di uguale misura. Far lievitare per circa 15′.
Quindi stendere  in un rettangolo con le mani e a arrotolare strettamente lungo il l lato lungo (come per una baguette) ogni panetto e disporli in teglie da pane in cassetta. Lasciare lievitare per un'ora a circa 28-30°C.
A lievitazione ultimata, spennellare e cuocere a 180° C per 30′. Poi coprire con carta argentata e abbassare a 160-170°C (dipende dal forno).
Far raffreddare sulla gratella.
Il giorno dopo affettare  a fette di 8mm di spessore e cuocere in forno ,al minimo, fino a che diverranno dorate e asciutte. (Circa 1h di cottura a 120°C).
Buona colazione, sana e rivoluzionaria. Tutto inizia da piccoli gesti…